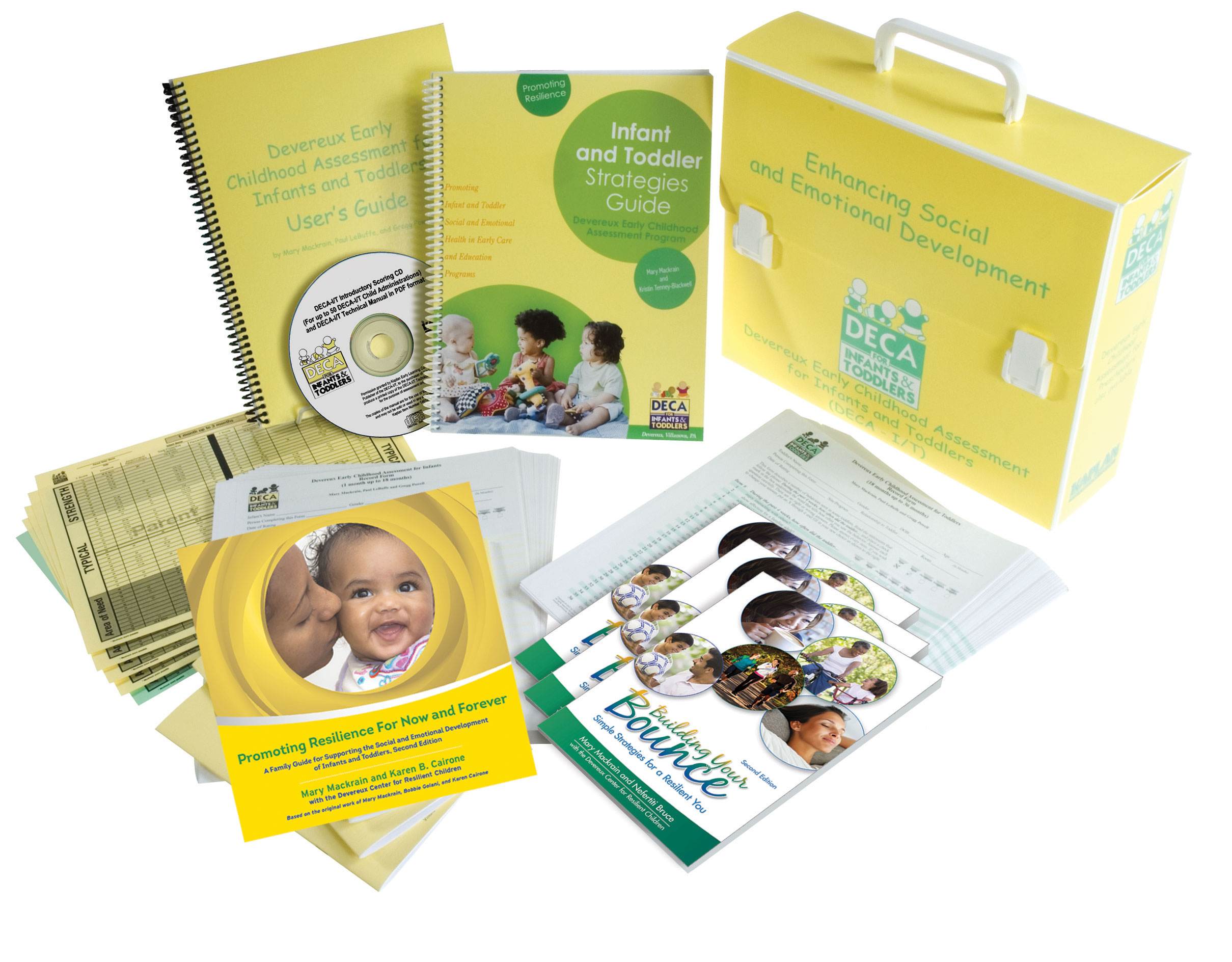 This comprehensive kit contains resources to support the development of infants' and toddlers' social and emotional health. The screening and assessment tool focuses on identifying key social and emotional strengths and the planning resources provide caregivers and parents with research-based strategies to promote children's resilience.
Kit Contents
DECA Infant and Toddler Record Forms
Designed for use with children 1 month through 36 months, the assessment forms are strength-based, nationally standardized, reliable, valid, and easy to use. The Infant form is appropriate for children 1 to 18 months, and the Toddler form is appropriate for children 18 to 36 months.  The assessment is available in English and Spanish in both paper and web-based formats. See sample assessment items for Infants and Toddlers as well as a sample Individual Profile to understand the vital information provided by this assessment tool at the bottom of this page.
Set Of Teacher/Parent Profile Masters
The Infant assessment (DECA-I) has 4 scoring profiles for the following age ranges to increase sensitivity to the differences in development at this age span:
 1 month up to 3 months
 3 months up to 6 months
 6 months up to 9 months
 9 months up to 18 months
The Toddler Assessment (DECA-T) has one profile for children 18 months up to 36 months.
DECA-I/T Users Guide
This guide provides directions on using and interpreting results of the assessment. DCRC offers the following outcome tables, which help to determine significant change in a child's scores from pre to post assessment.
DECA-I/T Technical Manual
The Technical Manual provides research information related to the development and standardization of the DECA-I/T, including information about the reliability and validity of the instrument. Download the DECA for Infants and Toddlers Technical Manual for more information.
DECA For Infants And Toddlers Strategies Guide
This guide provides research-based, simple, easy to use social and emotional strategies for the home and child care setting. With hundreds of strategies organized into five chapters, this guide is a wonderful reference for any caregiver who is interested in promoting the social and emotional health of infants and toddlers. Included are reproducible forms and checklists to help programs reflect on overall social and emotional quality of early care and education settings.
DECA-I/T For Now And Forever Parent's Guide
This guide supports families in understanding what social and emotional health of infants and toddlers is, how to recognize key behaviors, and how to support children's social/emotional health in the home setting in simple ways everyday!
Building Your Bounce: Simple Strategies For A Resilient You
As adults we want to be happy and to achieve in life. At one time or another, all adults feel the stress of life's daily hassles and major life events. Through reflective readings, activities, journaling, and written responses, this book will uncover strategies for strengthening your relationships, initiative, internal beliefs and self-control.
** Each kit item is available for purchase separately.
For those programs interested in a more comprehensive web-based solution for the DECA-I/T that does save results in a secure database, please click here to learn more about the web-based e-DECA 2.0.
Learn More About the DECA-I/T
Samples Of DECA-I/T Resources
Additional DECA-I/T Tools for Users