DECA-C (Clinical) Online Self-Paced Course
Course Description
The DECA Clinical (DECA-C) is part of a strength-based system to promote social and emotional well-being in young children 2 to 6 years old. In recent years, the demand for additional tools and professional development to assist psychologists in addressing the distinctive requirements of assessing, consulting about, and treating children under 6 years old has significantly risen. This training opportunity is designed to share information and build skills around the use of the DECA-C tool in the context of a primary prevention and mental health promotion model and used when needs of children cannot be met solely by programming at the universal and targeted levels.
A unique feature of the DECA-C is its dual emphasis on assessing both behavioral concerns as well as protective factors in young children. This training will ensure that participants walk away with an understanding of how to assess the severity of behavioral concerns and the extent of protective factor, so that interventions can focus on salient problems while building on the child's strengths, how to use the information as part of a multifaceted eligibility determination for special services, how to use within early intervention programs in meeting requirements, and how to compare scores between raters and use as an outcome measure.
The course takes approximately 1.5 hours to complete.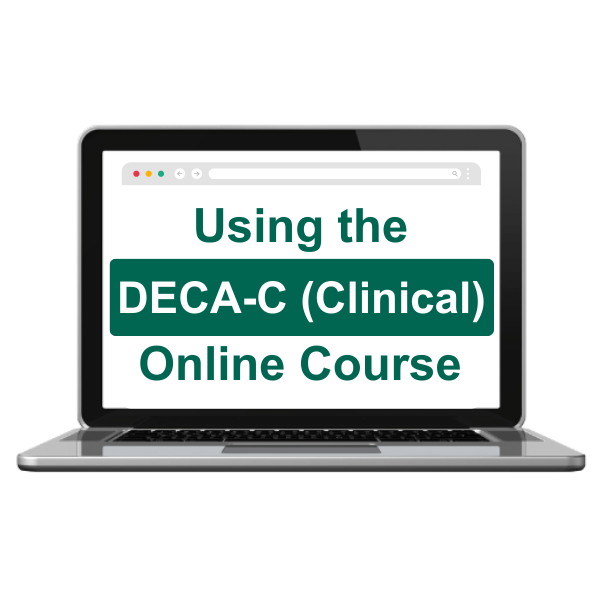 Presenter & Credentials
Rachel Wagner, MSW
Learning Objectives
Describe the three protetive factors and four behavioral concern areas that the DECA-C measure.
List the five steps included in the process suggested to support the administration of the DECA-C.
Additional Course Information
This asynchronous online training is most appropriate for psychologists, counselors, social workers, and other professionals that meet Level B user qualifications.
This training is designed for those professionals who use or plan to use the Devereux Early Childhood Assessment Clinical Form (DECA-C). The DECA-C is available for purchase in both paper and electronic formats through Kaplan Early Learning Company at www.kaplanco.com.
For more information regarding course content, please contact

[email protected]

.
For more information regarding continuing education credits, please contact

[email protected]

. 
Accessibility Information
Devereux Advanced Behavioral Health is striving to make our courses accessible for all learners. This course includes accesibility features such as closed captioning, but may not include information required for screen readers.
Continuing Education Information
Participants who complete the entire course can receive continuing credits/CEUs. Continuing education credits/CEUs cannot be awarded for partial course completion.