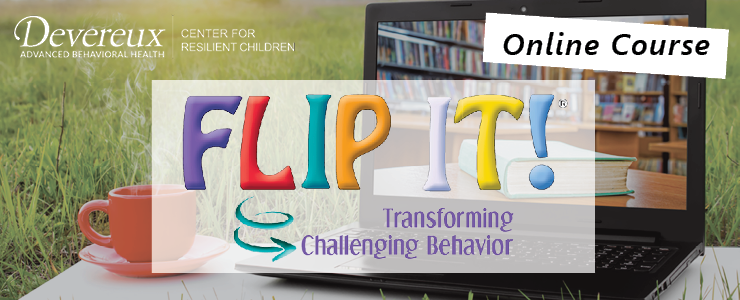 FLIP IT!® Online
Want to learn to FLIP IT! but don't have the time to travel? No problem!
Learn to FLIP IT! at your own pace by choosing the FLIP IT! Online course. The entire length of the course is approximately five hours including interaction, reflection, application of skills learned with FLIP IT! and a final assessment. Most importantly, this course can be taken module by module and not just in one sitting. Empower yourself and your colleagues by signing up for FLIP IT! Online now.
FLIP IT!® is a strategy that offers a simple, kind, strength-based, commonsense and effective four-step process to address children's day-to-day challenging behaviors. The four steps are embodied in the FLIP IT! mnemonic which stands for F – Feelings, L – Limits, I – Inquiries, and P – Prompts. FLIP IT! is nothing new, but transforms best practice into a strategy that is easy to remember, applicable in a variety of challenging situations and portable. Click here to download a flyer about this course!
Cost: $35 (+ $25 optional CEU documentation available through Western Kentucky University. 0.5 CEUs available)
New Customers: 
Volume Pricing
For 10-49 Individuals: 10% Off = $31.50 per person
For 50+ Individuals: 20% Off – $28.00 per person
A few options are available for FLIP IT! Online. Read carefully to choose the one that best fits your needs. Please note that you must be at a desktop or laptop computer (not a mobile device) to complete the course.
FLIP IT! Online Course Competency Certificate
FLIP IT! Online Course Participation Certificate
FLIP IT! Online Course (for those in KY, approved by the Kentucky Division of Child Care) Competency Certificate
"The FLIP IT! Online courses have been going great. I bought one for each of our classroom teachers. For the most part, they are more seasoned and have already received FLIP IT! training in some kind of format, but they have shared that this course was a good refresher. They really like the idea that they can complete it in sections when they have free time, which allows them to devote more uninterrupted time to the material and really focus. A few of them have finished the course and have gone back to review modules that they feel they need more support in. They really like the idea that they still have access to materials even after they have completed the course. Some teachers have shared that they learn better when they are able to go back and hear the same information again, and so this format is something that has been really good for those folks."
Sue West
The course content for both versions of the FLIP IT! online course are the same, providing participants with the knowledge to begin using this strategy to reduce children's use of challenging behaviors. The difference between the two options is based on what the learner needs upon completion of the course.
The FLIP IT! Participation Certificate Option allows the enrolled participant to experience the course and to receive a certificate of completion, but does not include credit hours or an assessment of knowledge acquisition.
The FLIP IT! Competency Certificate Option allows the participant to experience the same FLIP IT! course content, but the end of this version will include a 20-question assessment. In order to "pass" the course and receive the certificate of competency, the participant will be expected to answer 80% of the questions correctly.
NEW! The Pennsylvania Keys to Professional Development has approved our FLIP IT! Online Course,  making DCRC one of the FIRST organizations to offer an online course for PQAS credit. Simply select the FLIP IT! Competency Certificate Option above.
The FLIP IT! Approved by Kentucky Division of Child Care with Competency Certificate is approved by the state of Kentucky for contact hours! The certificate includes specific language approved by the Kentucky Division of Child Care.
For those participants seeking CEUs, the completed assessment will be required for certificate of credit hours. The process for receiving CEUs includes an additional $25 fee. Please contact Debi Mahler at [email protected] if you would like CEUs.
Current Customers: Click here for FLIP IT! Online Help & FAQs.