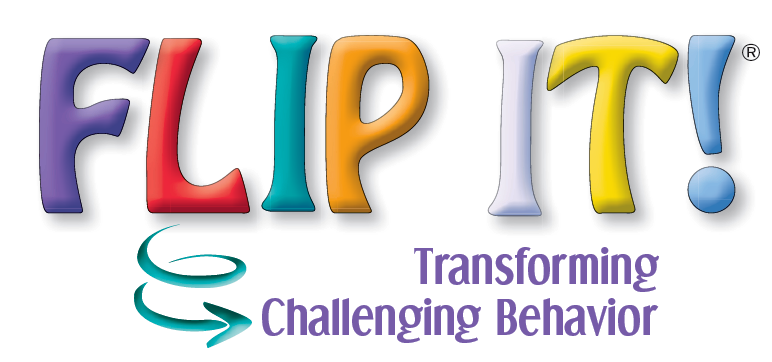 Are you interested in supporting the social and emotional development of young children and reducing their instances of challenging behaviors?
Use the FLIP IT strategy!
FLIP IT® is a strategy that offers a simple, kind, strength-based, commonsense and effective four step process to address children's day to day challenging behavior. The four steps are embodied in the FLIP mnemonic which stands for F – Feelings, L – Limits, I – Inquiries and P – Prompts. FLIP IT is nothing new, but transforms best practice into a strategy that is easy to remember, applicable in a variety of challenging situations and portable.
Check out the following video to hear from the author, Rachel Wagner!

Gently talk with the child about his feelings. Tell him what you see and hear as a result of his emotions. Help him to identify the root feeling causing the behavior.

Remind the child of the positive limits and expectations you have for his behavior. Loving and simple limits help surround children with a sense of consistency, safety and trust.

Encourage the child to think about solutions to his challenges. Ask questions that promote problem-solving and healthy coping skills. Inquiries invite children to think, learn, and gain self-control.

Provide creative cues, clues, and suggestions for the child who is having difficulty. Enthusiastic, bright ideas can lead the way to better problem-solving skills.
Children who are frequently "FLIPPED" become emotionally aware problem-solvers who develop healthy coping skills that will last a lifetime.
People who use FLIP IT with young children include early childhood professionals, teachers of young children, parents, foster parents, social workers, mental health professionals, bus drivers…EVERYONE!

The original FLIP IT training curriculum was developed with the support of a one-year innovative grant from the New York State Office of Children and Family Services received by the Franziska Racker Centers (FRC). FRC is a not-for-profit organization dedicated to creating opportunities for people with special needs in Ithaca, NY.
Research supports FLIP IT
The Center for School-Based Mental Health Programs at Miami University recently published an evaluation of the OH Department of Mental Health and Addiction Services' state-wide pilot of the FLIP IT strategy. The researchers also reported that parents were "overwhelmingly satisfied" and "100% of the comments described positive outcomes." They recommended that the state continue to sustain and support the use of FLIP IT concluding that it "offers parents effective parenting skills that can improve the lives of their children and family members."
Read the Executive Summary, Full Report, or watch this on-demand webinar all about the research!
FLIP IT Webinar Recordings