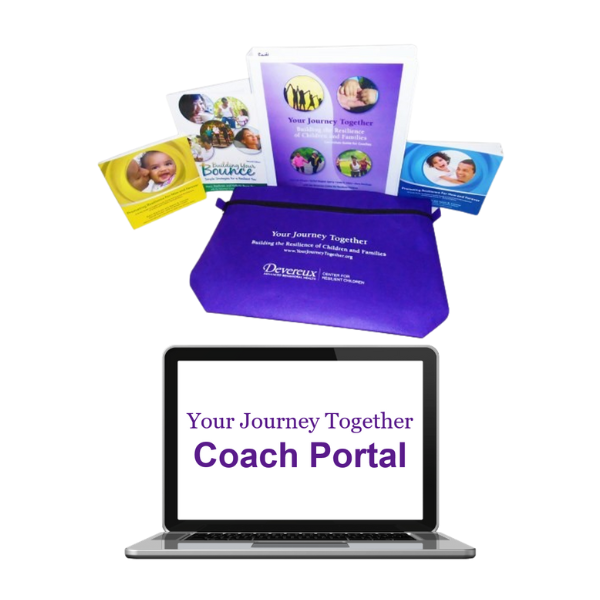 The Your Journey Together kit includes all of the resources that a coach needs to implement the curriculum:
YJT Coach Guide, with 29 step-by-step lessons and parent handouts (266 pages)
Building Your Bounce: Simple Strategies for a Resilient You
Promoting Resilience For Now and Forever, Family Guide (Infant/Toddler)
Promoting Resilience For Now and Forever, Family Guide (Preschool)
Web portal with access to videos, handouts, training materials, and more
Thank you so much for everything, we are truly excited to move forward in utilizing both tools in our program. I think the YJT tool will be a perfect fit for our program because it is parent friendly, simple to use and easy for staff to follow and understand. To be honest, it's an affordable option as well, which is important. Our next step is for both the Family Services Team and the Education Team to meet and work on the specifics of moving forward with both.
We heard of YJT after we had watched a webinar for the e-DECA. When the webinar was over, we did some exploring on the website and saw YJT. I knew the Family Team was looking for a curriculum to use with families so I researched it a little more then gave the information to our Head Start Director and Family Team Manager. The fact that the two (DECA and YJT) could work together to support children and families was most appealing to us. So many times we end up with all these separate pieces and we have to try and show staff how they work together…. DECA and YJT did that work for us.
The YJT Coach Guide
The curriculum is organized into four modules:
Module 1: Introducing Resilience
Module 2: Strengthening Caregiving Practices that Promote Resilience
Module 3: Strengthening Children's Protective Factors
Module 4: Promoting the Resilient Adult Caregiver
The lessons associated with each module are designed to show parents how everyday routines, activities, and interactions help promote resilience in young children and the adults caring for them. The Coach Guide is supplemented by the adult resilience journal, parent guides and strategy resources, and access to the web-based YJT Coach Portal.
Here is a peek at one of the tools you'll find in this resource: