FLIP IT Professional Development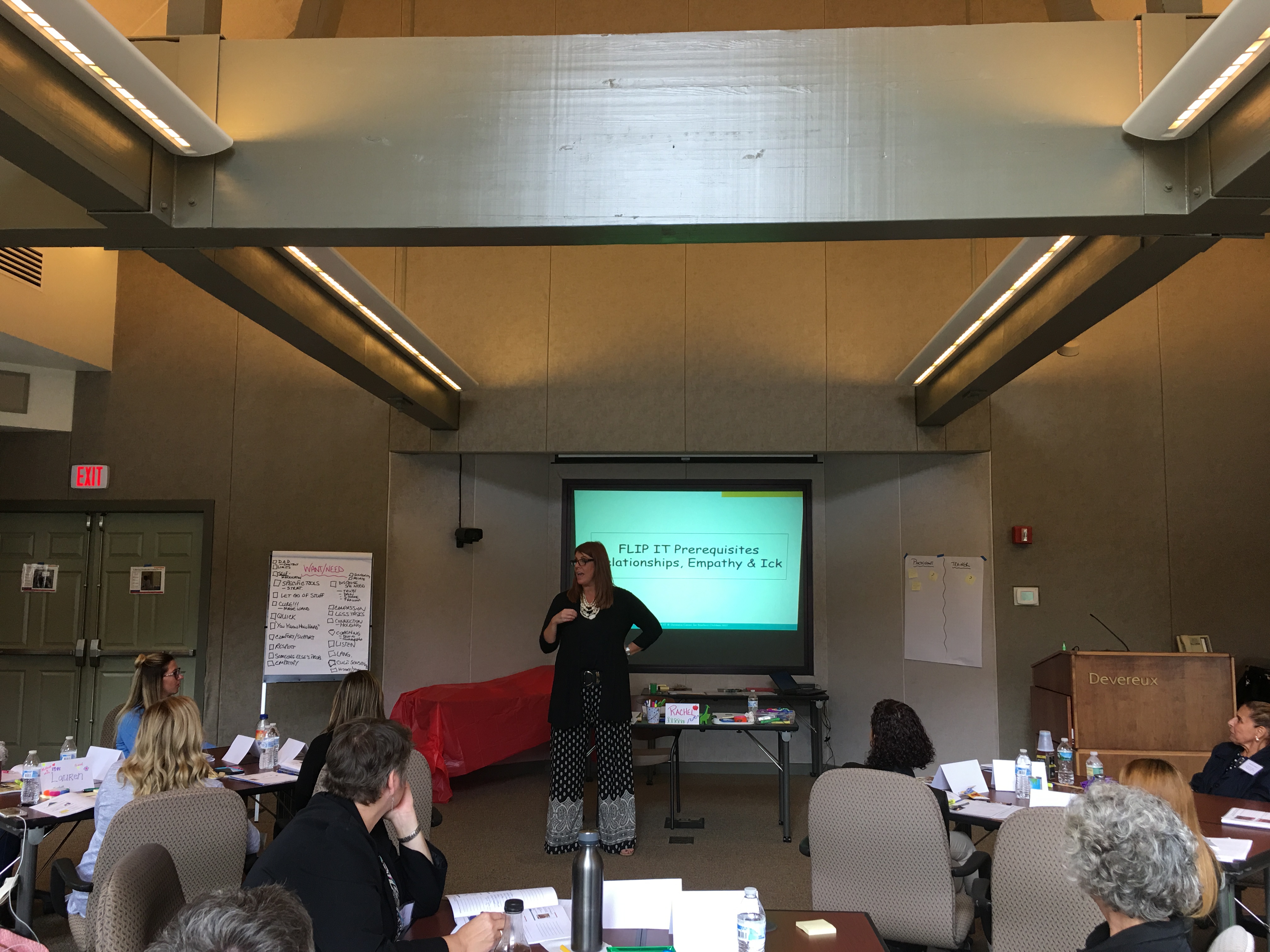 "In my 20 years of teaching, this is the best training I have ever attended. I wish I knew how to FLIP IT years ago!"
FLIP IT Online Course
This course will teach participants the four supportive steps of FLIP IT in an online learning format. With a running time of 2.5 hours, the course can either be completed in one sitting, or in pieces over time. Upon completion of the course, credits can be granted, factoring in time for the interactive pieces, reflection, application of skills, and learning assessment. The cost of the course is $30. Learn more.
FLIP IT One-Day Training
This live, one-day training teaches participants the four supportive steps of FLIP IT that are designed to help young children (ages 3-8) learn about their feelings, gain self-control, and reduce challenging behavior. The four steps are embodied in the FLIP mnemonic: F – Feelings, L – Limits, I – Inquiries, P – Prompts. This strategy is nothing new, but transforms best practice into something that is easy to remember, applicable in a variety of challenging situations, and portable. This training is designed for teachers and parents who are looking for best practices on reducing challenging behavior in young children.
FLIP IT Train-the-Trainer
This live, two-day train-the-trainer session offers time to experience the One-Day FLIP IT Training and become competent in teaching FLIP IT to others. Participants will leave this train-the-trainer session with the One-Day FLIP IT Training PowerPoint (or use for five, 1.5 hour workshops) and trainer notes, a variety of resources to help support the use of FLIP IT in the classroom and by families, and the confidence to provide workshops and technical assistance on the information.
Advanced FLIP IT Two-Session Webinar
Are you an active FLIP IT user who would like to take your skills to the next level? This two-session, live webinar event is designed to offer the next level of FLIP IT training to fine-tune your skills through reflection, inquiries and practice. This training is designed for participants who have received FLIP IT training in the past and/or have actively used FLIP IT in their work with children 3-8 years old.
During this live webinar series, participants:
Deeply re-examine each of the four steps in the FLIP IT process
Practice FLIP IT using real-life challenging moments
Explore the challenges and questions faced during each of the steps
Refine their FLIP IT practice
FLIP IT can also be offered in a half-day format, for parent workshops, for conference sessions and keynote presentations, and in a live webinar format. For more information or to schedule an event at your site, contact Debi Mahler, Director Professional Development at [email protected] or (610) 574-6141.