Important Notice:
Due to current events which have impacted our staffing, we are unable to fulfill orders for items that are physically shipped. Please know that many of our resources are also available to purchase through Kaplan Early Learning Company. We so appreciate your understanding, and hope that you take comfort in knowing that you can still place orders for our multiple web-based or digital items. Thank you!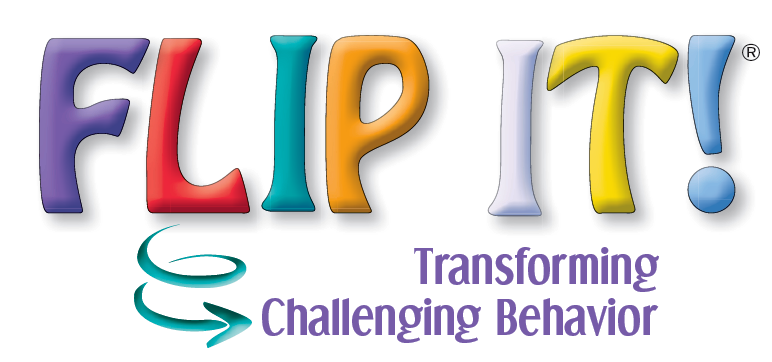 FLIP IT can be used in the classroom, on the playground, in the grocery store, in the car, at home … anywhere! See below for a variety of resources to learn about and use FLIP IT.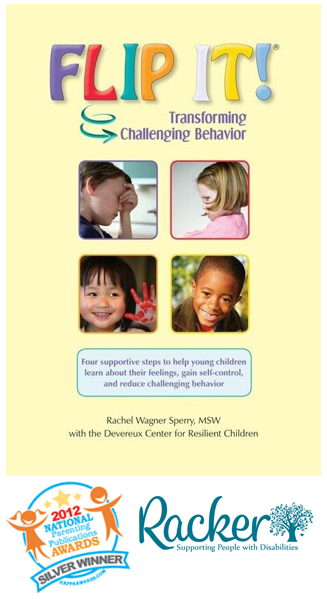 FLIP IT! Transforming Challenging Behavior
Winner of the 2012 National Parenting Publications (NAPPA) Award
This informative book by Rachel Wagner, MSW, in partnership with the Devereux Center for Resilient Children, is designed to support all adults who interact with young children. It explains FLIP IT's four simple steps for transforming challenging behavior in young children: F – Feelings, L – Limits, I – Inquiries, P – Prompts. Teachers and parents can help children learn about their feelings and gain self-control by using that mnemonic. Learn to FLIP IT with the book's practice pictures, reflection activities and real-life stories.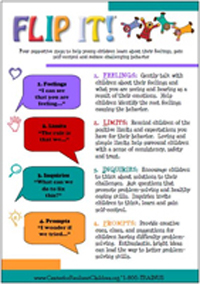 FLIP IT Posters (set of 4)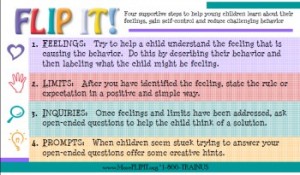 FLIP IT Pocket Cards (set of 20)
These FLIP IT Pocket Cards highlight the four steps of the strategy. They easily fit in a pocket or badge holder, providing a convenient reminder for teachers and parents in any location! Full color; purchase either 3×5 in. ($7.00) or 3.5×2 in. ($5.00).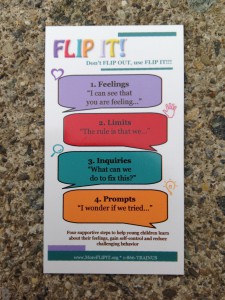 FLIP IT Magnets (set of 20)
The FLIP IT Magnets provide a reminder lead-in phrase for each of the four steps. They are great for refrigerators or file cabinets, providing a convenient reminder for teachers and parents! Magnets are in full color, 3.5×2 in.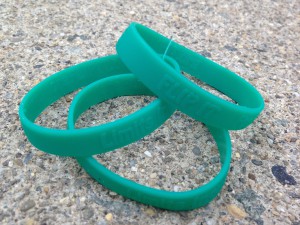 FLIP IT Bracelets (set of 20)
The FLIP IT Bracelets provide a wearable reminder of the strategy's four steps – Feelings, Limits, Inquiries, Prompts. They are great to wear every day, providing a convenient reminder for teachers and parents! Bracelets are teal in color.