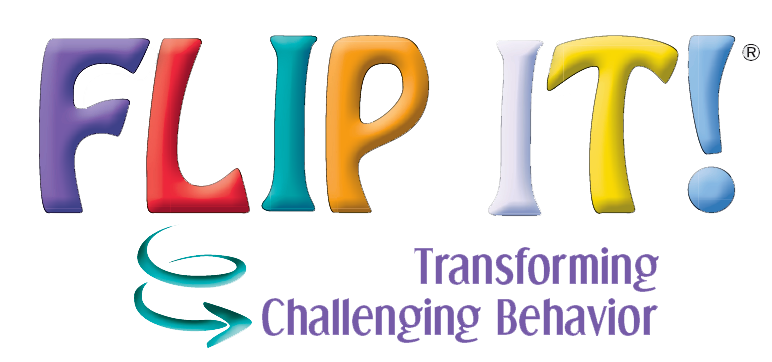 FLIP IT can be used in the classroom, on the playground, in the grocery store, in the car, at home…anywhere! See below for resources to help you learn about and use FLIP IT.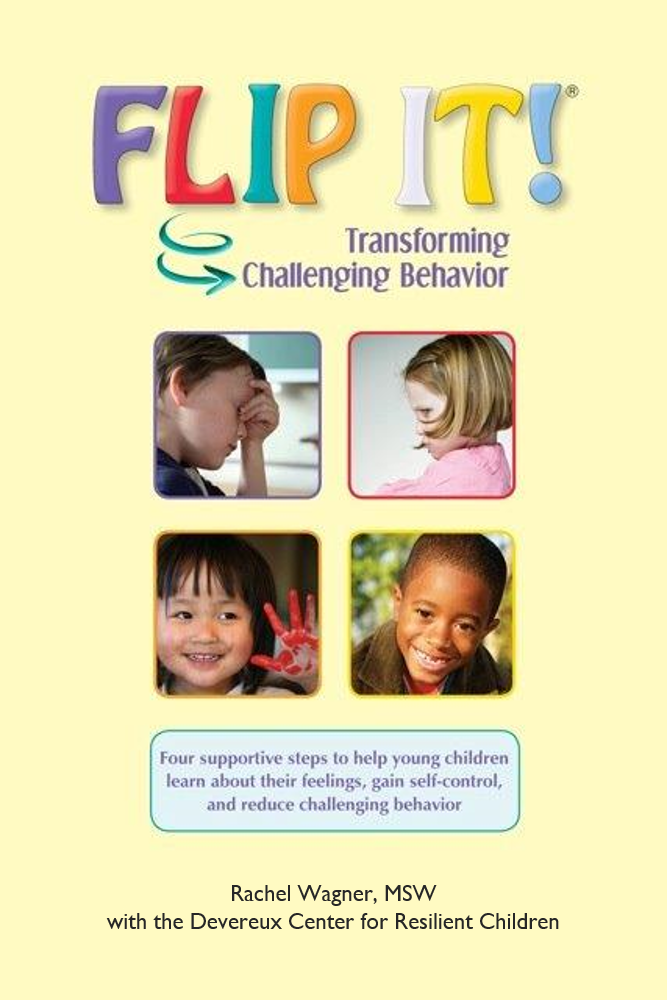 FLIP IT! Transforming Challenging Behavior
Winner of the 2012 National Parenting Publications (NAPPA) Award
This informative book by Rachel Wagner, MSW, in partnership with the Devereux Center for Resilient Children, is designed to support all adults who interact with young children. It explains FLIP IT's four simple steps for transforming challenging behavior in young children: F – Feelings, L – Limits, I – Inquiries, P – Prompts. Teachers and parents can help children learn about their feelings and gain self-control by using that mnemonic. Learn to FLIP IT with the book's practice pictures, reflection activities and real-life stories.
You can order this book from our publishing partner Kaplan Early Learning Company!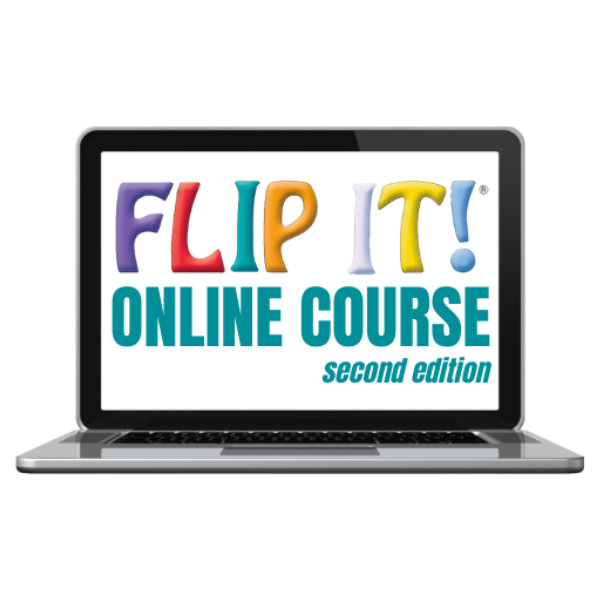 FLIP IT Online Course, 2nd Edition
Learn to FLIP IT at your own pace by choosing the FLIP IT Online Course, 2nd Edition. The entire length of the course is approximately 2.5 hours including interaction, reflection, application of skills learned with FLIP IT and a final assessment. Most importantly, this course can be taken module by module and not all in one sitting. Empower yourself and your colleagues by purchasing this course today!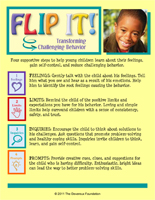 FLIP IT Flyer (free download)
This 8.5x11in.flyer provides a brief overview of the FLIP IT strategy and each of the four steps.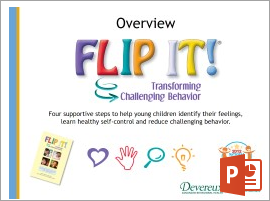 FLIP IT PowerPoint Presentation (free download)
You can learn all about FLIP IT by viewing this slide deck, and/or use it to spread the word on this simple and effective strategy!
Literature Review
When the FLIP IT strategy was being developed, an extensive literature review was conducted to inform the final approach. The literature review will provide confidence in the foundation of FLIP IT, and provide answers to questions that users may have about the strategy and how it fits within the larger context of managing children's challenging behavior.
Alignments
Check out these great resources!
Practice Pictures
The following photos show children engaging in a variety of challenging behaviors. Use these photos to see and practice how to FLIP the child's behavior. Remember: There are many possible ways to FLIP each scenario based on your interpretation of the photo. The sample responses provide only one of several appropriate ways to respond to the situation.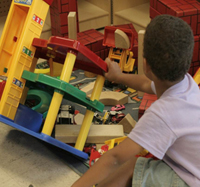 Child is throwing and destroying toys…
Feelings– "You are knocking down all the toys. You must be feeling pretty frustrated that the garage door wasn't working."
Limits– "We keep our things safe."
Inquiries– "What can we do to help you with your broken toy?"
Prompts– "You are good with tools! Do you want to use my tool box and try to fix the toys?"
Practice Worksheet for Download: Child Throwing Toys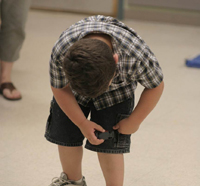 Child is stuffing a toy in his pocket that does not belong to him…
Feelings– "I see that you just put that car in your pocket. You love that car so much that you want to take it home with you."
Limits– "You may take it home if you follow the rules and sign it out."
Inquiries– "What do you need to do if you want to sign out that toy for the night?"
Prompts– "Can you ask me to get the sign out clipboard?"
Practice Worksheet for Download: Child Taking Toy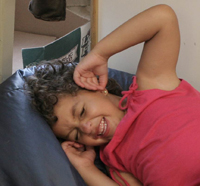 Child is refusing to listen…
Feelings– "I see you are pretending you can't hear me. I wonder if you are feeling silly."
Limits– "We use listening ears."
Inquiries– "What can we do to help you listen?"
Prompts– "Could I call you on my special phone to tell you my message…ring ring."
Practice Worksheet for Download: Child Refusing to Listen