You can now administer the nationally standardized, reliable and valid Devereux Early Childhood Assessment (DECA) ONLINE for infants, toddlers, preschoolers and clinical! You can also link to a variety of strategies from Conscious Discipline and the DECA Program that can be selected as part of the planning process for individual children. This web-based applications allows for both teacher and parent ratings to be entered online, it completes all scoring, generates reports, provides strategies for both school and home settings, and stores your data in a secure database. Get started with the e-DECA in order to promote resilience and social-emotional health in young children and in the adults who care for them!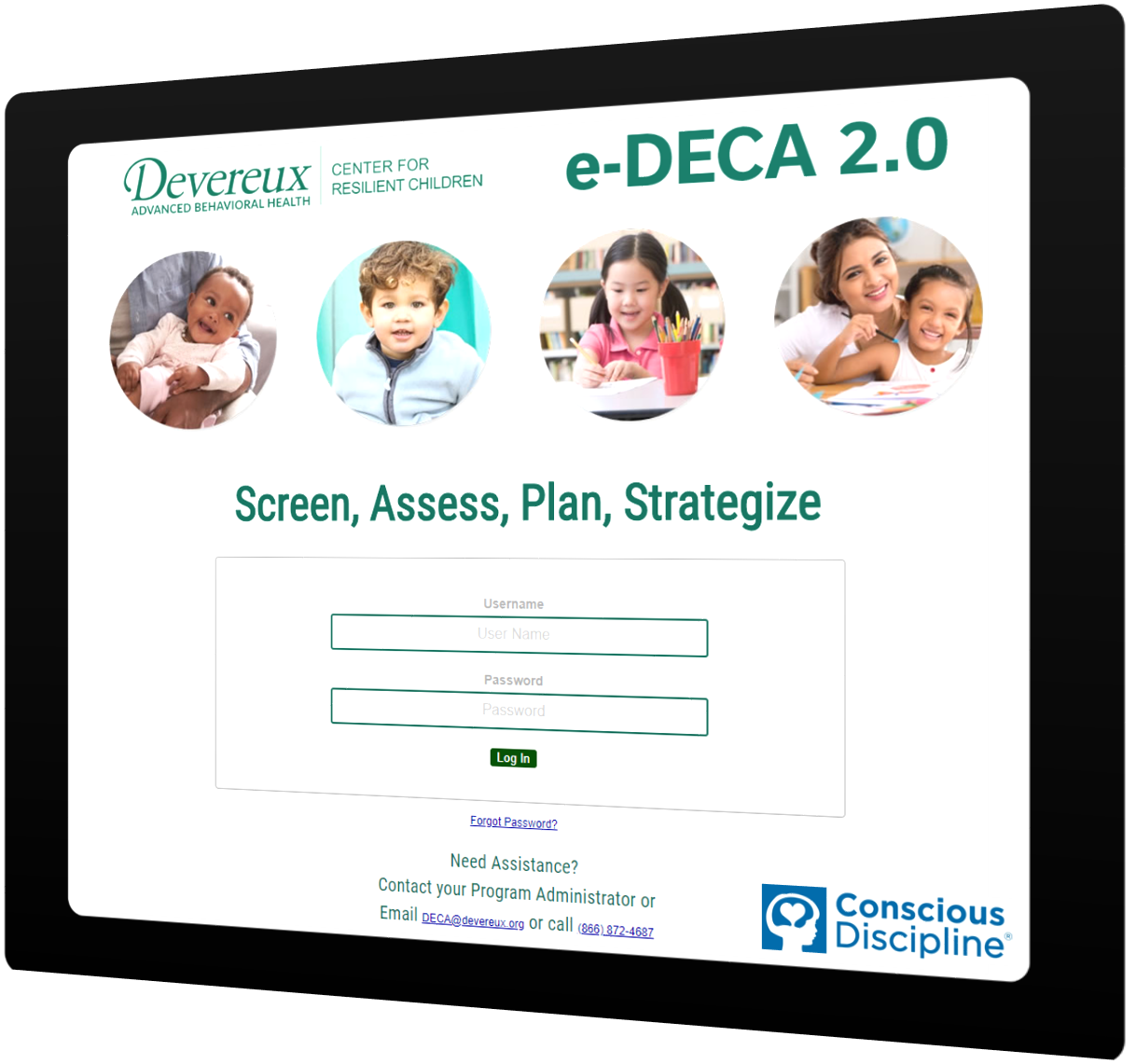 Learn more about this resource
Want to get started with Conscious Discipline & e-DECA 2.0 in your program?
Now build teacher resilience on e-DECA.
Teachers' protective factors matter too. e-DECA now allows teachers to complete the Devereux Adult Resilience Survey (DARS) within the e-DECA system. Learn more about our commitment to adult resilience here, download a PDF of the DARS here, or watch a 1-minute video on how to access DARS on e-DECA.
Assess your progress with DECA & support with Conscious Discipline strategies.
For programs using Conscious Discipline, the availability of a nationally standardized, strength-based assessment of children's resilience is a much needed tool to track progress and monitor outcomes.  "Conscious Discipline has been recommending the Devereux Early Childhood Assessment (DECA) for many years.  We are delighted to now offer our users a more efficient way to assess children's social and emotional health and resilience,  monitor progress in the classroom, and customize strategies to promote children's resilience," says Keith McIntyre, Conscious Discipline's Executive Director.  For programs already using the eDECA and Conscious Discipline, this resource can serve as a solution to make social and emotional assessment and planning a more efficient and coordinated process.