Sign Up for Professional Development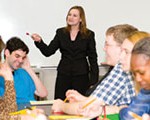 The Devereux Center for Resilient Children hosts Professional Development events to train folks on Your Journey Together. If you are interested in diving deeper into the Your Journey Together resources, we recommend this opportunity!
Stay tuned for additional events!
We will post additional National Professional Development events as they are scheduled. Please email [email protected] to be added to our mailing list so that you can be notified when they are posted.