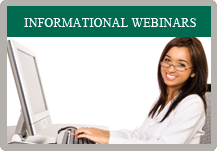 Join us for one or more of our FREE 1-hour webinar sessions designed to enhance your knowledge around promoting resilience in children and the adults who care for them! All webinars take place from 1-2pm, East Coast Time.
Wednesday, November 20, 2013: Promoting Resilience for Children Birth through Five Years Old
Friday, December 6, 2013: Building Your Bounce: Promoting Resilience in Adults Who Care for Children
Wednesday, December 11, 2013: Promoting Resilience in Children and Families involved in the Child Welfare System
Stay tuned for our 2014 webinar series, COMING SOON! In addition to presenting many of these great topics again, we plan to introduce a "Guest Speaker Series" with a variety of new presenters who will share their insights on topics related to social and emotional health of children. Please check our website in upcoming months for more information!
To register for one or more of these webinars, click here.
To view previously recorded versions of these webinars, click here and scroll to the bottom section of the page.