All foster parents are required to attend a prescribed number of hours of pre-service training before receiving a license to provide care to children in their homes.  Training topics vary between states, but may include basic child development, positive behavior management, abuse and neglect, trauma, working in partnership with birth parents, and child welfare court systems.
In Polk, Hardee and Highlands Counties in central Florida, all prospective foster parents participate in the Passport to Parenting Curriculum which was written by the lead child welfare agency and includes content delivered by DCRC on resilience,  risk factors, protective factors, caregiving practices that support resilience, the DECA assessments (DECA for Infants, DECA for Toddlers, and DECA for Preschoolers), adult caregiver resilience and FLIP IT.
Following these sessions, participants have the opportunity to evaluate the sessions as well as reflect upon and report what they have learned.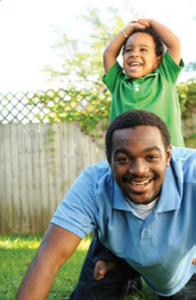 Some of the comments and documented learnings include… "It is important to recognize the children's strengths," "I learned how to use positive discipline,"   "We now know how to create a positive environment for children,"  "It is important for me to be regulated myself to help kids be regulated,"  "We learned how to validate feelings," "Relationships help children feel safe,"  "Protective factors make us resilient,"  "It is important to take care of myself,"  and "This class helped me more than any other class!" It is exciting for DCRC to be able to share such important and relevant information with prospective foster parents whose job it is to love, nurture and provide a safe home to some of our most vulnerable children!
Visit the updated section on the web for of our Child Welfare Initiative for more information!
by Deb Alleyne, Early Childhood and Child Welfare Specialist